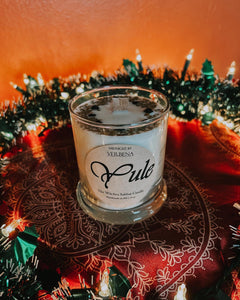 Baby she's back! My Yule ritual candle is back in stock for a limited run. I haven't had these since winter 2019.
❄️❄️❄️❄️❄️❄️❄️❄️❄️❄️❄️

The aroma is reminiscent of Christmas wreaths. A vibrant green, herbal aroma with crisp pine and spruce top notes.

Prepared and blessed with juniper berries and real mistletoe. This candle looks great on any hearth or in any kitchen to invite in love, warmth, joy, kinship, harmony and abundance this holiday season.