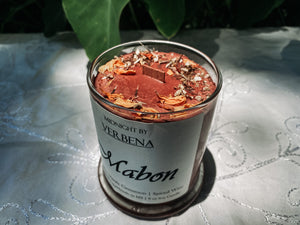 Mabon is the second Sabbat of the harvest season and the one most popularly associated with Thanksgiving. This is the time of year when nature is performing her last show of excellence before snuggling down into her hibernation period. I always imagine this as Mother Nature's fireworks finale.
Celebrating what has come to pass since the first showing of the seedlings planted on Imbolc. The leaves have turned their spectacular shades of golden hues and rich reds, pumpkins are on doorsteps, and fall festivals are underway.
Apple ciders, mulled wines, pumpkin pies, apple turnovers, savory garlic and herb breads being baked, chili cook offs, football has returned, apple orchards are opening their gates, vineyards are harvesting their bounty, and the veil is quickly thinning.

This 9 oz candle comes prepared with a wooden wick, herbs and fragrance that embody the sabbat of Mabon.

Scent profile: Pumpkins, Brown Sugar, Vanilla, Persimmon, Spiced Apple Cider.
The votive option has a cotton core wick.