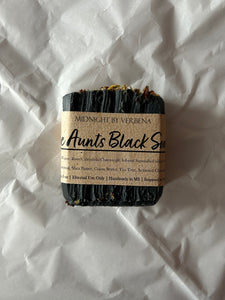 Inspired by The Owens black complexion soap from the pages of Practical Magic. Intended to bring out a natural glowing complexion and aura.
The activated charcoal will bring underlying acne to the surface to clear it out while the botanicals work to sooth the skin barrier.
Contains: Distilled moon water, saponified olive oil, Shea butter, cocoa butter, avocado oil, coconut oil, tea tree oil, rose oil, rose petals, calendula, chamomile.
Each bar is cut by hand and cannot guarantee symmetry.