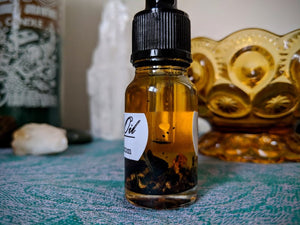 This oil is those that have had enough of the drama and bullshit. This is my own twist on the classic Tappa Boca. It's specifically used to stop folks from gossiping, spreading lies, speaking ill, and in some cases using harmful magick against you. Words cast spells yall and the tongue is a powerful caster. It can also be used for 
removing negative talks or someone from your way that constantly speaks down to you, whose words or own short comings are being projected onto you and inadvertently causes you to doubt your own reality. This works exceptionally well on the toxic, the meddling, the gossiper, and the narcissist. 
Stop back stabbers in their tracks by anointing a black candle or a double action white/black candle. Please be careful when using this oil and wear protection like rubber gloves if you're known to have an adverse reaction to Chile Peppers and Black Pepper.
*External Use Only* does not come with dropper
Sold as curio