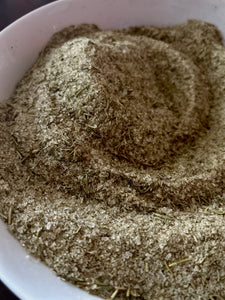 This epsom salt based 13 oz herbal blend can be prepared as a spiritual bath or floor wash to add an extra layer of reinforcement to your protection work.
 Contains • Epsom salt, Shea butter oil, Sandalwood oil, Sunflower oil, Baking soda, Aloe Vera Leaf extract, sweet almond oil, clove, fennel, sage, rosemary, ginger root, thyme, basil, angelica root. 
Disclaimer: 
For external use only. Do NOT use to fix candles. Do not ingest.
By law we are required to say that we sell these products as Curios (for entertainment purposes only). They are not approved by the FDA.
Products sold on this site are NOT to be internally digested, and that includes the herbs.
By purchasing these products you are stating that you are at least 18 years of age.
These products are not meant to replace medical treatment or intended to diagnose, treat or prevent any type of disease.