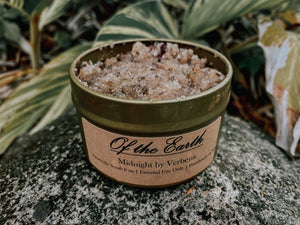 Grounding is an act of love to us from us. To center and refocus when life becomes overwhelming. This reiki charged scrub is comprised of nourishing oils and soothing botanicals to bring one back down to earth but also ground an uneasy root chakra.
It can be used daily for regular grounding work of the feet but also as a foot soak when added to warm water. Perfect for those with working on balancing the Doshas in the Ayurvedic medicine tradition.
How to apply | Before bed, spoon out a tablespoon and massage into feet, rinse with warm water, pat dry. 
Ingredients | Mediterranean Sea Salt, Himalayan Pink Sea Salt, Olive & Sesame Oils, Holy Tulsi, Rose, Dahlia, Patchouli, Amber, Birch. 
Size | 6 ounces