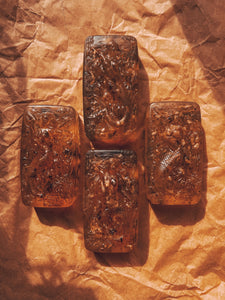 The Ritual | According to ancient Celtic folklore, Irish Moss was carried on trips for protection and safety. It was also placed beneath rugs to increase luck and to ensure a steady flow of money into the household.
The Skin Care | Irish Sea Moss has been known to help alleviate dermatitis, sunburn, eczema, and psoriasis when applied topically. It's also natures Botox as it aids in collagen replenishing, vitamin c, and leaves skin more dewy.
This recipe helps stimulate skin regeneration, tighten pores, and reduce the appearance of aging. It can increase skin elasticity, improve signs of photoaging, and promotes skin firmness while utilizing the antimicrobial properties for a clean finish.
The Aromatherapy | Lavender and Chamomile work together to helps calm and relieve worries, creating a sense of peace and well-being.
Ingredients
Glycerin, Water, Coconut Oil, Palm Oil, Sugar, Castor Oil, Vegetable Oil, Diproplylene Glycol, Stearic Acid, Irish Sea moss, Chamomile flowers, Lavender buds, Lavender EO, Thyme oil , Frankincense EO, Tea Tree oil.