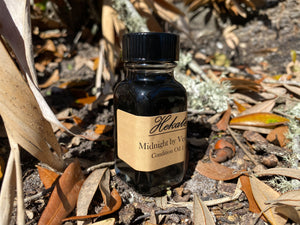 Hekate, the goddess of magic, witchcraft, moon, ghosts, and necromancy. This oil was created to honor her and to be used for rituals involving her. She's helpful with transformation, make decisions when life is at a crossroads, reclaiming your magick, igniting your torch. She is the maiden, mother, and crone that lives inside each of us.
This oil will stain your clothing as it has activated charcoal in it for coloring. Inside you will find a variety of herbs and flowers that are sacred to her as well as tiny key.

Anoint a black, silver, white, or red candles during a New Moon and ask her for guidance when you're at a life crossroads or in need of help standing in your power.