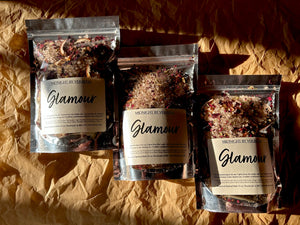 Indulge in my luxurious Glamour Spiritual Bath. Let the exotic blend of minerals transport you to a world of glamour and favor. Created in the same likeness as my Glamour Magick candles and oils. This bath can be dedicated to all goddesses of love, captivating beauty, sensuality, and luxury. 
Recommended use: Soak in a warm bath for 25 mins with rose, vanilla, or patchouli incense. Remember to stay hydrated with herbal tea or cool water when utilizing spiritual baths. Recite your favored prayers into the bath water prior to submerging. 
Contains: French Grey Salt, Moroccan Red Clay Powder, Ginger Oil, Blood Orange Oil, Ylang Ylang Oil, Jasmine, Rose, Licorice Root, Catnip, Blood Orange, Rosemary, Honey Granules, + Prayer.