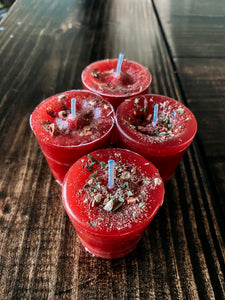 Our best selling condition oil is now a fixed hand poured candle.
Designed to heighten or increase your appeal and desirability to make yourself a magnet for people, opportunities, situations, and so on. This is an extremely potent attraction candle so it's wise to be precise and crystal clear about your goal.
Layering is highly recommended when working spells. For example, to draw in more money you can pair this candle with any money oil along with Crowning Achievement (to ensure success). Louisiana Van Van is also a viable option with Fast Luck. 
For bringing in a new romance, pair this candle with The Lovers, Come to Me, or Marie Laveau's AP.