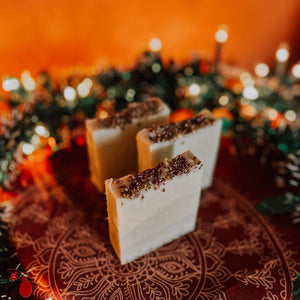 Nourishing saponified olive oil, sunflower oil, shea butter, cocoa butter, and coconut oil are blended together with prayer.

Fixed with:
Balsam and Winter Plum oil for grounded mental clarity, beauty, and the ability to thrive in even the most adverse circumstances.
Finished off with Wild Scottish Heather shipped in directly from the Scottish Highlands. In this recipe, it's instructed to bring the wearer protection, success in spiritual growth but to also hear and decipher messages from your spiritual court with greater ease.