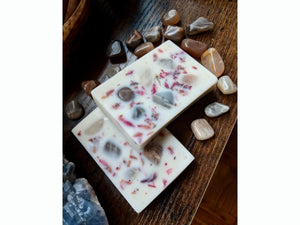 Divine Moon Goddess Lotion Bars are made with a Shea Butter, Olive oil, Beeswax, and rose/jasmine oils. 
Each bar is infused with essential oils, rose petals, and moonstones to harness your feminine energy and balance the Sacral, Crown, or Third Eye Chakras.

Jasmine, the flower that blooms at night for lunar magick and drawing spiritually pure love.

Rose, the universal symbol of love. Often associated with Aphrodite, the Goddess of love and beauty. 

Moonstone, considered to be a feminine stone, has positive impact of bringing peace and balance to anyone that wears it.