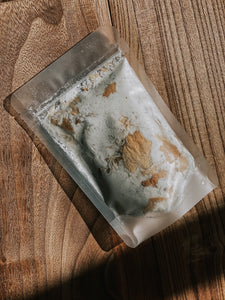 Blended with a variety of white flowers of roses, jasmine, chrysanthemums, goats milk, and coconut/sweet almond oil. Intended to cool, soothe, and reset an individual that's struggling with releasing anger, bitterness, frustration, and negative energy. It also works to bring in peace and tranquility. It purges the aura of negative energy so that one can feel connected to their higher self again.

How to work with this bath:
When creating your bath, break it down into 3, 7, or 9 baths.
Add coconut water, Florida Water, a bit of honey, and Holy Water to 1 gallon of water*. Boil, cool, and strain.
*This can be rain water, moon water, ocean water, or river water. 
Take your regular shower or bathe first. pour the mixtures down the neck and to your feet. If you're choosing to draw a bath, allow the water to be lukewarm but not cold.
Mindfully soak for at least 30 minutes.
Airdry, dress in white, and go right to bed. For additional protection, sleep with a white head covering on like a bandana.
13 oz