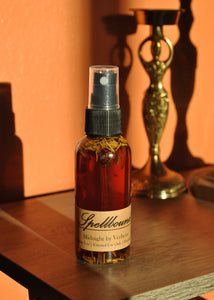 For those that need a little extra help in the persuasion, charisma, and charm department: I give you Spellbound herbal spray. Crafted with roots and herbs for increasing your enchantment capabilities. Don't be surprised when folks randomly feel compelled to help you or become fascinated by your alluring nature. 
Ingredients | Organic witchhazel, rosehip, rosemary, licorice root, orris root, Arabian jasmine, rose.
Please note: The organic witch-hazel base gets its naturally red coloring from the rosehip that steeped for many months in this mixture before bottling.
For best results, if choosing to wear this on your skin: mist on the skin after bathing and allow to dry completely before applying clothing to avoid staining your clothing. 
*For EXTERNAL use only. Do NOT ingest.*