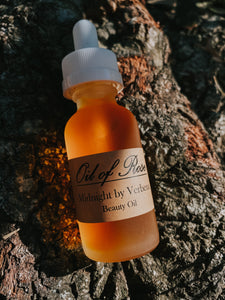 Raspberry seed oil is highly sought after for its ability to stimulate collagen production, bring a more youthful and vibrant complexion forth, and is rich in vitamin A and E.
This face oil is light weight and absorbs into the skin quickly. For a metaphysical twist, this can be incorporated into your vitality, glamour, and beauty rituals. Add a dab to your makeup brushes while they're drying after cleaning. Add a few drops to your conditioner for added glamour. Anoint your body to call in love and beauty deities. 
Contains: Rose, rosehips, calendula, marshmallow root, avocado/raspberry seed/golden jojoba oil, rose absolute essential oil.