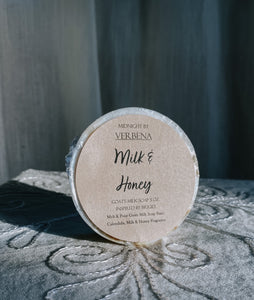 For nourishing, softening, cooling, and sweetening a disposition or negative/anxious disposition. The presence of Calendula flowers can attribute to boosting solar influences. For example: When one suffers from sluggishness and is generally unmotivated, the power of the sun can be used for vitality and shining light where darkness has crept too far in. 
Created with the influence of Triple Moon Goddess Brigid in her 'Mother' form. She's well known and adored for being the patroness of healing, poetry, and smith-crafting. Whom inspires wisdom, keeps the internal flame alive, and survives against all odds. 
Scent profile | Milk and honey

Contains goats milk melt and pour base, milk and honey fragrance blend, calendula flowers.