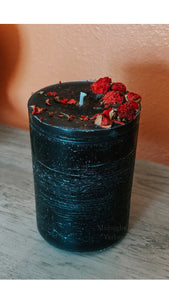 She helps us navigate through the terrain of our shadows. She is the crone. The older wiser sage. However she can often appear to us as the maiden or mother. 

She guides us into the darkness, into the absence of light. She knows that light blinds us to things we cannot see. She delivers clarity because only she knows the secrets to cutting away all that no longer serves us. She guides us through our transformation so that we may be reborn into our power. She shows us where to set boundaries, where we need tending to, and delivers us stronger and wiser. 
I created this candle to honor all the dark goddesses. My relationship with them have been a rewarding and sacred one. This candle can be used during the new moon or whenever you feel it's time to journey into the dark to meet them. 
Hekate, Circe, The Morrigan, Kali Ma, Lilith, Baba Yaga, Sekhmet, Medea, Pele.. and so many more.