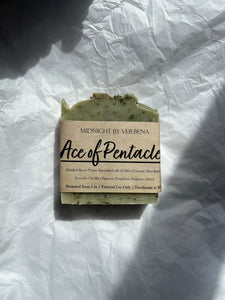 Add an extra layer of prosperity to your money drawing rituals with Ace of Pentacles soap. Blended with money drawing herbs, real money, and scented with Bayberry. Prayed over and cured for 6 weeks prior to availability. Money drawing work should be done on Thursdays when the moon is waxing (getting larger). 
Contains | Distiller Spring Water, Saponified oils of Avocado,Olive, and Coconut, Shea butter, Green mica pigment, proprietary fragrance blend.
Disclaimer
By law we are required to say that we sell these products as Curios and are not approved by the FDA. Products sold on this site are NOT to be internally digested, and that includes the herbs. By purchasing these products you are stating that you are at least 18 years of age. These products are not meant to replace medical treatment or intended to diagnose, treat or prevent any type of disease. Refunds or exchanges are not permitted.