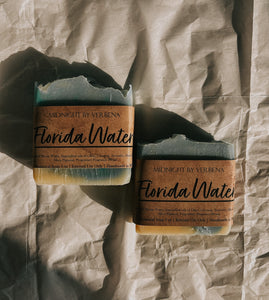 Each bar is infused with the refreshing, invigorating, citrus scent in the likeness classic Florida water and is reinforced with spiritually cleansing recipe as well. 
Wash with this soap to cleanse yourself of negative energy picked up from being in toxic environments and around toxic people. Florida water is said to also alleviate sunburns, bug bites, and bring peace to those who suffer from depression*. 
Also used in spells, Florida Water is used to remove heavy vibrations and to encourage the expression of emotions.
When seeking guidance from ancestors, wash with Florida Water soap to clear the air of any static and interference to allow for a clear reading.
This powerhouse soap is going to be your go to for all around spiritual balancing.
Contains • distilled moon water, saponified oils of olive, coconut, avocado, Shea, butter, Mica pigment, proprietary fragrance blend
*Always seek the guidance of your doctor or other qualified health professional with any questions you may have regarding your health or a medical condition. Midnight by Verbena is not intended to be a substitute for professional medical advice and should not be relied on as healthcare advice.*
Bars size and cut may vary.