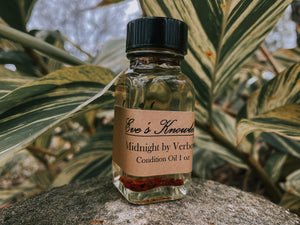 For rebirth into elevated consciousness, Spiritual awakenings, meditation with the crown and third eye chakras, transformation, receiving higher arcane spiritual and occult teachings, shedding of ones old and outdated belief systems (fear, anxiety, timid, shyness, insecurity), stepping into deeper alignment with source. 
Warning: Pregnant mamas, this oil contains Blue Cohosh root. It has been known to stimulate the uterus, bring on labor contractions, and start a menstrual cycle. 
Metaphysically, it's used for protection, goddess connection, courage, and understanding the deep feminine mysteries. 
Pomegranate flowers and oil also bless this creation with her connection to dark goddess that call us to move and transform. Heavily connected to Pluto and Venus energy. She lends her energy for bringing forth the inner voice, granting wishes, and symbolic self reflection.
Grapeseed oil is the carrier oil, to bring everything together in harmony. It's planetary tie to the Moon brings the element of water. By itself it aids in strengthening mental capacities, which play a very important role in studying the ancient mysteries and knowledge.